Support the Matthew Shepard Foundation's 20 year commitment to #EraseHate against LGBTQ people
Select Trigger
Someone tweets using hashtag #EraseHate
---
---
This will activate whenever someone uses the hashtag #EraseHate on Twitter.
More ►
$591.40 Pledged
3136 Donations Collected3480 Donations Pledged
Why we want to #EraseHate
Take the 20th Anniversary #MSF Heart Challenge
The MSF Heart Challenge is to help honor the 20th anniversary of Matthew Shepard's death and the founding of the Matthew Shepard Foundation.
Download and print out the Heart Challenge poster, write something kind on the back and place it on a fence nearby. Help spread love, erase hate, and remind other LGBTQ+ folks that they have allies by challenging someone you know to print this heart, write a message, and place it on a fence.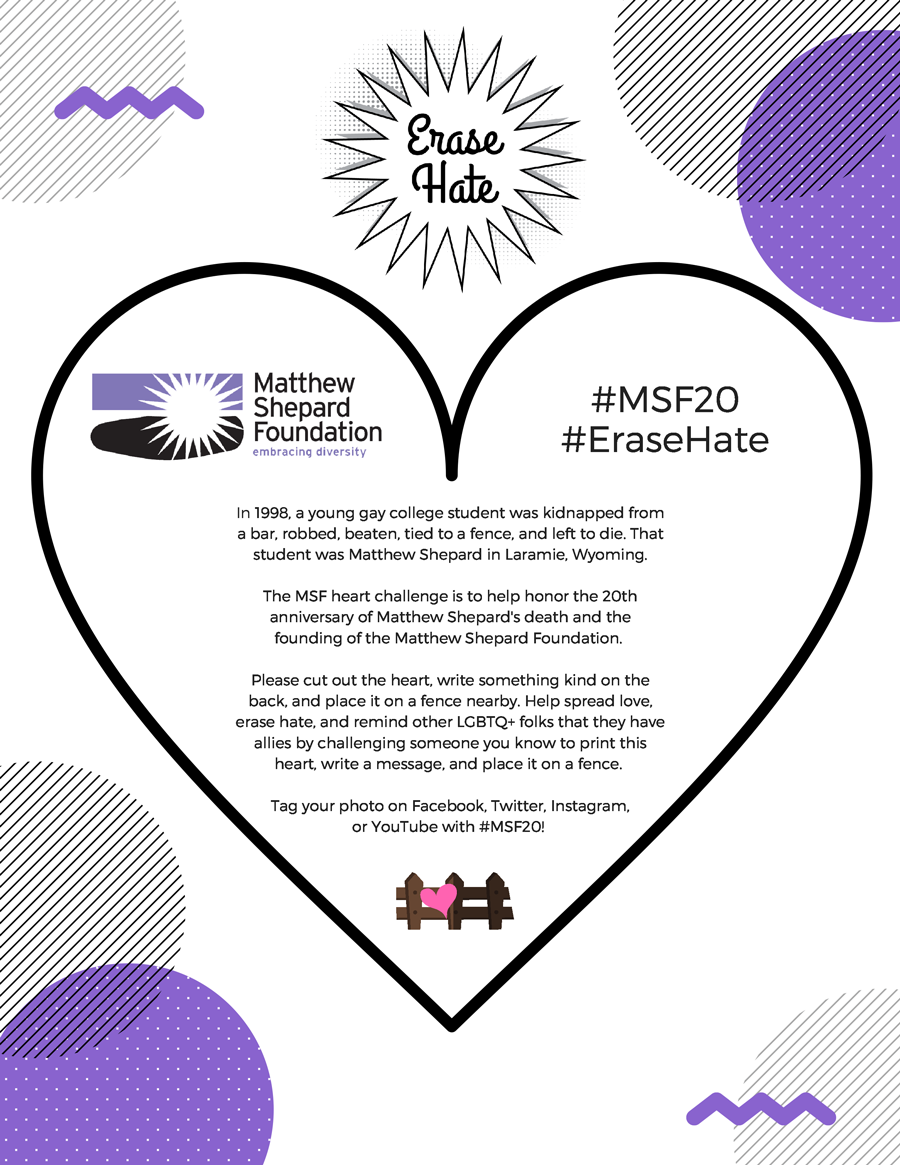 About Us
Our Mission
The Matthew Shepard Foundation's longstanding mission is to erase hate by replacing it with understanding, compassion and acceptance. Through local, regional and national outreach, we empower individuals to find their voice to create change and challenge communities to identify and address hate that lives within their schools, neighborhoods and homes.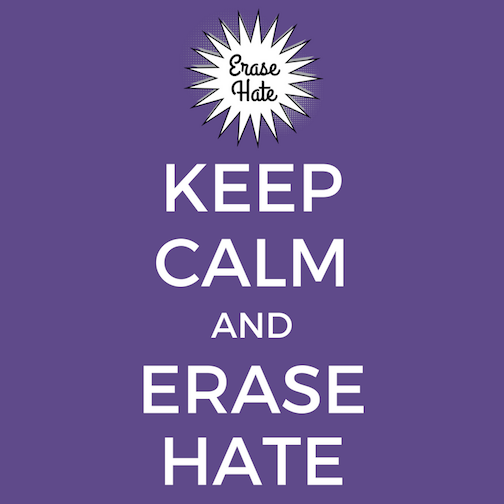 Our work is an extension of Matt's passion to foster a more caring and just world. We share his story and embody his vigor for civil rights to change the hearts and minds of others to accept everyone as they are.
The Story of Matthew Shepard
On October 7, 1998, Matthew Shepard, a 21-year-old student at the University of Wyoming, was brutally attacked and tied to a fence in a field outside of Laramie, Wyo. and left to die. On October 12, Matt succumbed to his wounds in a hospital in Fort Collins, Colorado.
In the aftermath of Matt's death, Judy and Dennis Shepard started the Matthew Shepard Foundation to honor his life and aspirations. Because of the tragedy endured by the Shepards, the beginning principle of the Foundation was to teach parents with children who may be questioning their sexuality to love and accept them for who they are, and to not throw them away.
Through her personal appearances across the country and around the world, Judy Shepard shares Matt's story to highlight the importance of standing up for the LGBT community.
Our Work
Since our formation, the Foundation has centered its efforts on providing a voice and support for LGBT youth with our online resource center Matthew's Place, helped pioneer the country's first federal hate crimes legislation with the Matthew Shepard and James Byrd, Jr. Hate Crimes Prevention Act, and create dialogue about hate and acceptance within communities with special support for The Laramie Project and The Laramie Project: Ten Years Later.
"Ultimatum" is a registered trademark of Ultimatum Inc. © Copyright 2019, Ultimatum Inc. All Rights Reserved.