Hear a Story. Share a meal. Give Hope.
Select Trigger
Someone uses the hashtag #FeedingTheHomeless or #HearingTheHomeless on Twitter
---
---
This will activate anytime someone uses the hashtag #FeedingTheHomeless or #HearingTheHomeless on Twitter.
More ►
$64.30 Pledged
188 Donations Collected193 Donations Pledged
Feeding The Homeless
The Feed the Homeless Event gives an opportunity for the community to meet the homeless where they are by sitting down with them and sharing a meal; providing the public with a window into what it is like to be homeless while also giving the homeless an opportunity to choose what they want to eat for once, like most of us do on a daily basis. The goal of the event is really to facilitate relationships between people who would not normally cross paths through the simple act of sharing a meal together. Our hope being to foster communities that are more awakened, intentional, and connected than before.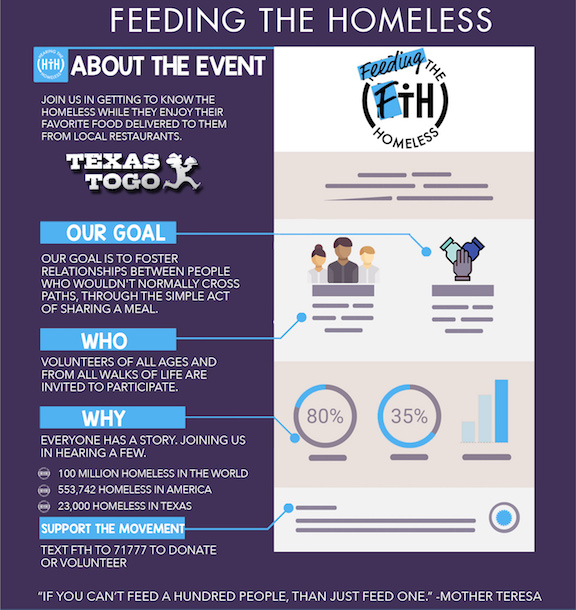 About Hearing the Homeless

OUR APPROACH
Hearing the Homeless takes an innovative approach to addressing the issues of homelessness through looking at every homeless person as just that a person; a complex individual with distinctive needs, struggles, and obstacles. By taking individual comprehensive assessments, facilitating direct giving from the community, and targeting urgent needs specific to each individual, HTH will be able to more effectively remove the barriers keeping our HTH reps from reentering society and rebuilding their lives.
GIVE SMARTER
The traditional approach of direct public giving is long outdated. Using our technology, we are able to direct your donations towards targeted needs; maximizing donations and giving our reps the tools they need to thrive instead of just enough to survive.
GIVE TIME
Money doesn't solve problems, positive relationships do. HTH takes a holistic approach to supporting our fellow humans in need through building authentic relationships. We encourage individuals in the community to go beyond giving money to giving time as community mentor providing support, simple conversation, and encouragement to our HTH reps along their path to recovery.
"Ultimatum" is a registered trademark of Ultimatum Inc. © Copyright 2019, Ultimatum Inc. All Rights Reserved.