Fundraiser supporting Cajun Navy Relief
Ladies Choice Fitness Center is committed to giving back to . our friends and neighbors affected by Hurricane Florence. In the wake of Hurricanes Florence and Michael, volunteers with the Cajun Navy Relief supported the relief efforts. We are hosting the Fall Festival Fundraiser to thank them for their service and support their efforts in helping communities like ours after these types of natural disasters.
We invite you to join us on October 27th from 10 AM - 2 PM at the Fall Festival Fundraiser to support the Cajun Navy Relief.
Location: 10055 Dorchester Rd, Summerville, South Carolina 29485
We have teamed up with local businesses to bring you a fun-filled day to include:
Zumbaton® Fitness "Round-the-World Challenge"
Face painting and games
A costume contest
A raffle, giveaways, and more!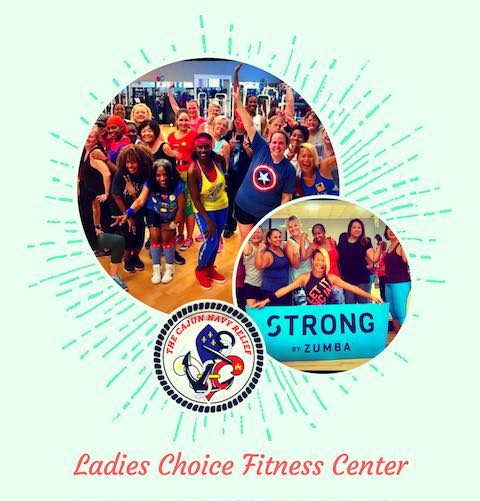 Ways to Donate
You can make a pledge on this campaign to support Cajun Navy Relief, even if you cannot attend the event! You can also support our fundraiser by:
Everyone in the community (members and non-members) is welcome to attend the event. Drop in child care will be available on site.
Benefitting Charity: Cajun Navy Relief
Cajun Navy Relief's network of volunteers respond to hurricanes, floods, and other disasters to help those in need. The Louisiana flood of 2016 brought a group of strangers together who all had the same desire to help their fellow neighbors. They are now an organization made up of people from all walks of life and all corners of the United States.
You can read more about Cajun Navy Relief on their website.
About Ladies Choice Fitness Center

Ladies Choice Fitness Center is a locally owned family business located in Summerville, South Carolina. Ladies Choice Fitness specializes in empowering women ages 12-95, and is the only full-service ladies only facility in the area. Our 12,000sq ft facility has a wide range of services and amenities to help members at all fitness levels reach their health and fitness goals. Our facility includes:
Newly renovated heated pool and whirlpool
Sauna, steamroom, and aromatherapy
Personal training
Nutritional counseling
Over 41 group fitness classes per week — water aerobics, zumba, and more
We invite you to come in and experience for yourself why more and more women are choosing Ladies Choice Fitness Center to reach their fitness goals. We look forward to seeing you in the club very soon!