About Cajun Navy Relief
Cajun Navy Relief's network of volunteers respond to hurricanes, floods, and other disasters to help those in need. The Louisiana flood of 2016 brought a group of strangers together who all had the same desire to help their fellow neighbors. We are now an organization made up of people from all walks of life and all corners of the United States.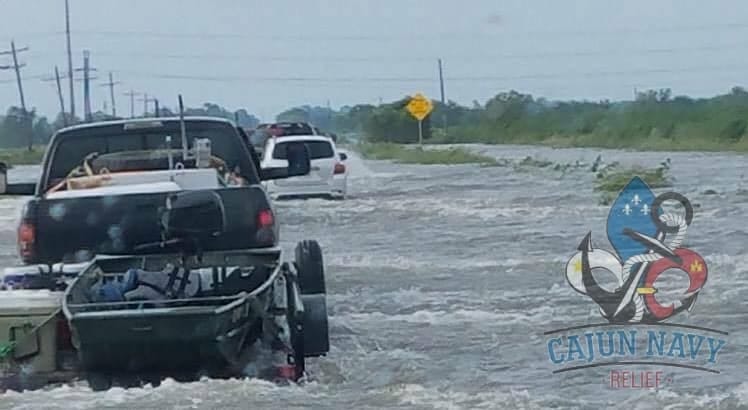 First Rescue Operation of June of 2018
Cajun Navy Relief assisted rescues in Hidalgo County Texas. Dozens of volunteers worked with the Hidalgo County Fire Department to answer calls for rescue. Special thanks to our local volunteers and to Chief Saldana of Hidalgo County Fire Department for welcoming our assistance.
Cajun Navy Search and Rescue Games
In April of 2018, Cajun Navy Relief hosted our inaugural Search and Rescue Games in the Atchafalaya Basin. The event was a training simulation of active dispatch, boater response, and rescue … of course there was also some friendly competition. Over 60 boaters, dispatch, and support volunteers attended, including our youngest volunteer, a 15-year-old who attended with his father. Special thanks to Crispy Crunchy Chicken, Dow Chemical, Empact Northwest, Xstreme MD, Elite Communications, United Saints, and Crawfish House & Grill for supporting the event.
Training and Coordination
Our team has been in conversation with regional and state disaster relief agencies (including LEO, NGO & NPO) concerning more efficient rescue effort coordination. In addition to collaborating with the Governor's Office of Homeland Security and Emergency Preparedness, we will be doing what we do best during future disasters involving flood response. We are also training members to take part in larger USAR events as it relates to tornadoes, structural collapse, hurricanes, and more. This year, a group of our lead volunteers completed Rescue Systems 1 and Rope Rescue Operations and earned their certifications.
Charity Navigator Rating: Not Yet Rated
View Detailed Charity Navigator Rating
Official Website: https://www.cajunnavyrelief.com/